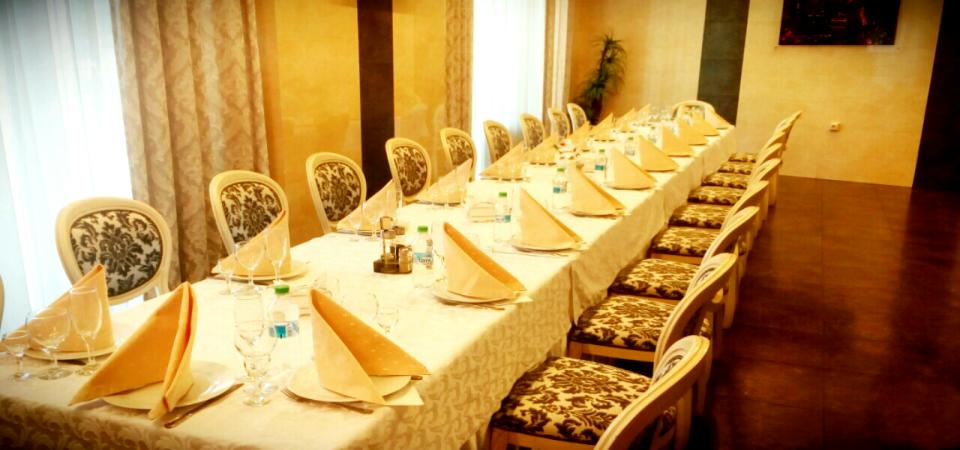 Enjoy the Sweetest Moments Surrounded by Luxury !!!


Complimentary night in "Manhattan Hotel & Restaurant" for just married!
Book a wedding party or dinner for minimum 30 persons at «Manhattan Hotel & Restaurant"4* and we give complementary night for two persons or just married couple.
Wedding in Manhattan from 750 Lei/pers.
Gifts: One Night in a «Manhattan Hotel & Restaurant"4* & 2 Hours SPA
Enjoy the Sweetest Moments Surrounded by Luxury !
Reservations by Phone:+(373 22)260-888, +373 6 8330080
Romantic Dinner on the Rooftop. A romantic dinner on the roof of the hotel Manhattan is an unforgettable adventure for all lovers! Everyone dreams of being in "Ninth Heaven" and we'll make this dream come true.An unforgettable evening in the candlelights, with your lover, almost in heaven, but rather on the roof of Manhattan, which offers you a splendid view of the Cathedral of St. Theodore (Ciuflea). This beautiful view will create a memorable image of Chisinau and an unique feeling of tranquility.Delicious meal, romantic music, candles, impeccable service and pleasant company is all that you need to celebrate a birthday, to make a declaration of love or to make a proposal of marriage. Such a romantic gift your lover will never forget! We can also invite a saxophonist or violinist to fulfill your date with wonderful and romantic love songs.Also for a romantic evening to be more appealing, you can remain in Manhattan Hotel where will also dominates a romantic atmosphere.
Menu : Price 2700 MDL/couple

- Cheese plate assortment
- Mixed Fish
- Mixed vegetables and Bulgarian Cheese

- Sauté Peppers
- Chateau briand
- Vegetables sote
- Bread
- Strawberry Kilimanjaro
- Cricova Wine "Rosu de Purcari" or Negru de Purcari

- Watter
- Tea/Coffee
*******************************************************
Menu:1800 MDL/couple


- Cheese plate assortment
- Mixed Fish
- Mixed vegetables and Bulgarian Cheese
- Veal brisket on a bone in honey and cherry sauce

- Cheesecake "Manhattan" or Chocolate Brownies which ice cream

- Wine Cricova Cabernet Sauvignon
or

- Champagne Cricova semisweet
- Watter

- Tea/Coffee
*********************************************************
Menu:1700 MDL/couple

- Assortment "Moldova"
- Cheese plate assortment
- Salad "Waldorf"
- Fillet Mignon with peppercorn souse
or
- Royal baked salmon

- Cheesecake "Manhattan" or Chocolate Brownies which ice cream

- Wine Cricova Cabernet Sauvignon
or

- Champagne Cricova semisweet
- Watter

- Tea/Coffee
Recomanded by

TripAdvisorManhattan Hotel & Restaurant