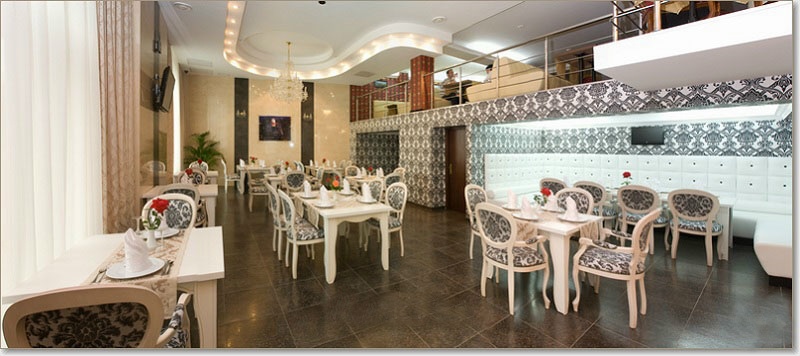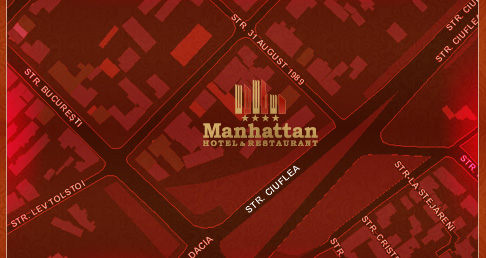 The Manhattan Hotel & Restaurant 4* is located on 1,Ciuflea Str., (corner with str. 31 August 1989) opening a splendid view to the Saint Theodor Cathedral (Ciuflea) and in convenient proximity to the area's major government and business offices, shopping malls, theaters and cultural attractions, airport. The Hotel is ideal for business travelers as well as leisure tourists due to its easily approachable location, which is in the heart of Moldova's capital, Chisinau.

Location: just 3 minutes away from the heart of Chisinau, Stefan cel Mare Boulevard, Hotel" National", Academy of Sciences, across to the Saint Theodor Cathedral, 0,3 km from Shopping MallDOVA, 1,5 km from Exhibition Center Moldexpo, Airport – 7,0 Km, Train station-0,8 km, Central bus station-0,7 km.
Arrival: Chargeable Shuttle Service:
On request, we also offer you a paid shuttle service airport-hotel-airport. The driver will pick you up at the airport and bring you directly into our hotel, on departure day he will bring you back at the agreed time.

Trolleybus :

Trolleybus no. 30 "Chisinau International Airport – The Great National Assembly Square". The Trolleybus is next to the airport and over 20 minutes walk down

https://goo.gl/maps/yNqJCEyPRNw
"Manhattan Hotel & Restaurant"4* Geo Coordinates:
1, Ciuflea Str., MD-2001 Latitude: 47.01206916718633
Chisinau,Republic of Moldova Longitude: 28.844808340072632

Phone: (+373 22) 260-888
Fax: (+373 22) 260-886
Mob: (+373) 6 8330080
http://www.youtube.com/watch?v=o2-A75t7S08